游戏介绍:
《开拓者:拥王者 Pathfinder: Kingmaker》是一款奠基于《开拓者》奇幻世界设定、采用等距视角且基于团队的电脑角色扮演游戏。透过这款受到《博得之门》、《辐射》1与2、《奥秘:蒸汽与魔法》等作品启发的游戏,尽情享受经典的角色扮演游戏体验。

游戏特色:
探索失窃之地,即一个几世纪以来一直备受争议的地区。数百个王国曾经在这片土地上起起落落,现在是时候让您做下自己的专属标记了 – 通过建立自己的王国!因此,您需要征服严酷的荒野、敌对国家的威胁以及来自法庭的挑战,才能够生存下来。
您可以使用一系列的等级和权利,包括专业原型、强大奥术和神圣法术,以及选择多种等级能力、技能和专长,来定制自己的角色。《开拓者》允许玩家创造出既适合自己游戏风格又符合自己个性特征的主人公(或反派角色)。
您将邂逅各种同伴和NPCs,包括开拓者设置中的标志性人物。您需要决定相信谁、仔细观察谁,因为每个同伴都有一个与您不同的日程、路线和目标。您的旅程将成为他们的旅程,而您将帮助他们塑造当下和未来的生活。
征服新的地区,宣告它们归您所有,在荒野上创造自己的王国。虽然经典的地牢爬行和探索依然是此次冒险的核心,但外交、政治和王国发展也是挑战的一部分。请在探索古墓和废墟时,以及在法庭上处理政治事务时,好好选择您的盟友,并与其保持密切的关系。
您的王国是对您自己在游戏中的角色和选择的反映。它是由您的联盟、盟友以及您对人民的领导能力塑造而成的活生生的东西。你的王国不仅可以扩张,使您能够开疆扩地建立新的城镇和社区一展才华,而且首都城市也会按照您作出的决定、政策、乃至你所选择的盟友而改变。当王国发展壮大后,一些派系和邻国会前来寻求帮助并考验你的实力。
探索 – 征服 – 统治!
最低配置:
需要 64 位处理器和操作系统
操作系统: Windows 7 64-bit or newer
处理器: Intel Celeron 1037U @ 1.80GHz
内存: 4 GB RAM
显卡: Intel HD Graphics 3000
存储空间: 需要 30 GB 可用空间
声卡: DirectX Compatible Sound Card
推荐配置:
需要 64 位处理器和操作系统
操作系统: Windows 7 64-bit or newer
处理器: Intel Core i7 CPU 920 @ 2.67GHz
内存: 8 GB RAM
显卡: ATI Radeon HD 5770 or NVIDIA GeForce GTX 960M
存储空间: 需要 30 GB 可用空间
声卡: DirectX Compatible Sound Card
游戏视频:
游戏截图: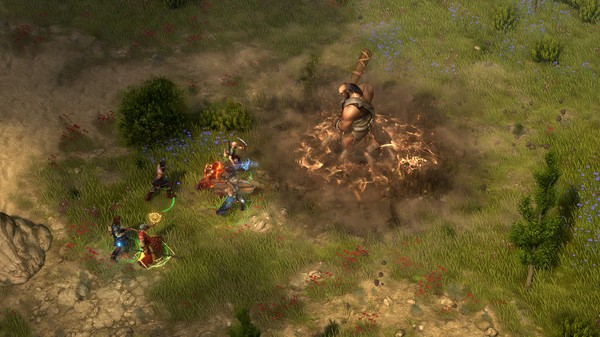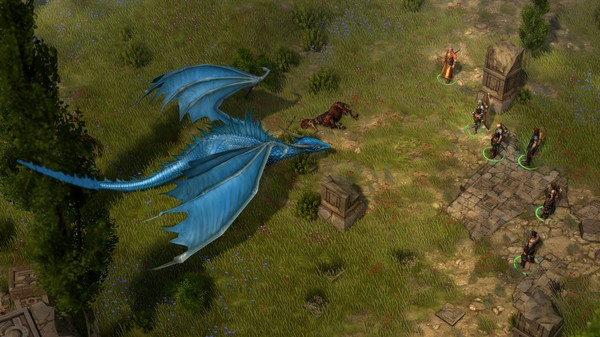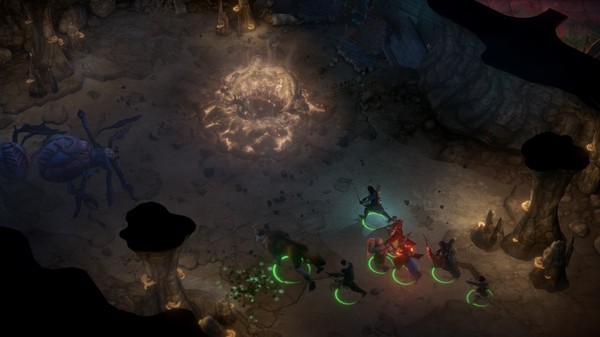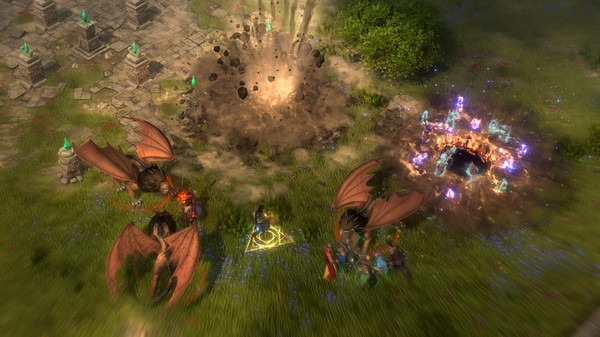 说明:winRAR解压,安装游戏记得全英文路径,关杀毒软件哦。
steam:https://store.steampowered.com/app/640820/Pathfinder_Kingmaker__Enhanced_Edition/
发行日期:2018年9月25日
小型更新 来自:Pathfinder: Kingmaker 已发布 10月13日周二 Update 2.1.5c – October 13, 2020
Please be aware of plot spoilers in the description below!
Areas
Fixed the issue with sudden companions' deaths because of the curse at the Camp at the Capital Gates.
The battle with Armag cutscene was sometimes triggered incorrectly at Flintrock Grassland. Resolution: fixed.
Fixed the untimely start of the dialogue in Sorrowflow.
Fixed the issue due to which you could make Mobility checks at the Castle of Knives only once.
Fixed the issue when characters could sometimes be stuck on the second floor of the Capital Inn.
Quests
Fixed the issue, which made it impossible to complete A Bard's Calling quest if several conditions weren't met at Rushlight Fields.
Turn-Based Mode
The summoned creatures failed to disappear immediately after they died in turn-based mode. Resolution: fixed.
Turn-based combat could fail to end even after all the enemies were dead if an uncontrolled friendly character attacked a dead enemy. Resolution: fixed.
If a character started the turn-based combat with a full attack, the Initiative roll wasn't made until all the hits were finished, which resulted in the incorrect calculation of the flat-footed effect. Resolution: fixed.
Characters that did not act in the surprise round were no longer flat-footed at the start of the first normal round, but according to rules, that condition should have remained until the characters' turn. Resolution: fixed.
You could order more than one character to perform Charge or some other aggressive action before starting the battle in turn-based mode, which caused the game to freeze or the turn to be skipped automatically. Resolution: fixed.
Detecting a trap or some other hidden object could interrupt Charge in turn-based mode, which could cause the turn to freeze in some cases. Resolution: fixed.
In turn-based mode, when spells with the ultimate range were used, prediction sometimes showed that the spell would be applied but then the spell failed because the character did not have enough time. Resolution: fixed.
In turn-based mode, if a monk switched between combat styles, the new style wasn't applied until the next turn. Resolution: fixed. Now the new style is applied immediately if the monk has not already used his attack in the current turn.
In turn-based mode, it was impossible to hide the weapon set selection window or take a turn after changing the weapon. Resolution: fixed.
The performance has been improved, in particular, when using a large number of long-lasting AoE effects (auras, Cloud Kill and so on).
Kingdom
If your kingdom was destroyed, you couldn't view the last event and change the automated kingdom management settings. Resolution: fixed.
Classes & Mechanics
The duelist's Parry ability did not work properly and had an incorrect description. Resolution: fixed. The ability now works correctly and does not reduce the number of attacks per round.
If a spell cast by a magus with Spell Combat on was interrupted (for example, due to a failed Concentration check), it was impossible to make an attack according to Spell Combat rules after that. Resolution: fixed.
Smart cursor failed to suggest that a magus make a full or normal attack by default if the magus had a charged spell and Spell Strike was on. Resolution: fixed.
The druid's pets had no bonus against trip maneuvers. They should have had a bonus from the number of legs. A centipede also had no immunity to trip. Resolution: fixed.
The description of the ranger's Archery Style incorrectly stated that it granted pinpoint targeting (instead of Improved Critical it actually provided). Resolution: fixed.
The bard's song stopped immediately without Lingering Performance. Resolution: fixed. Now it is active until the end of the round.
Singing Steel Breastplate failed to speed up switching the bard's songs on. Resolution: fixed.
The Endurance feat only granted the ability to sleep in medium and heavy armor and did not give other bonuses. Resolution: fixed.
Fixed the description of the Vital Strike feats.
Heroic Invocation made the characters fatigued after the effect ended. Resolution: fixed.
Blind Fight now correctly makes your character not considered flat-footed against melee attacks.
Corrupting Touch ignored bonuses to AC that affected other touch attacks of incorporeal creatures. Resolution: fixed.
Acrobatic Movement, Treat Affliction, and Demoralize sometimes were not available to characters. Resolution: fixed.
Using Acrobatic Movement to avoid attacks of opportunity slowed the character more than intended. Resolution: fixed.
Stone Fist was resolving attacks against touch AC instead of normal AC. Resolution: fixed.
Holy Sword's enhancement bonus stacked with all other enhancement bonuses. Resolution: fixed.
Permanent effects from auras bound to a point or an NPC that affected your characters (for example, Guarded Hearth), disappeared after you restarted the game. Resolution: fixed.
The effects that should have disappeared after the battle failed to dispel. Resolution: fixed.
The Slowed effect failed to affect the characters out of combat if the control type was set to controller Resolution: fixed.
Several damage-increasing effects were incorrectly increased by abilities granting a bonus to damage, such as Smite Evil. Resolution: fixed.
The effects, which are normally applied to all the characters at the location, stopped working. Resolution: fixed.
Vordakai's Fear Aura ability now correctly works with Remove Fear and other effects against fear.
Base Attack Bonus (BAB) of ranged and melee attacks was sometimes calculated incorrectly on the character's page in the console version.
Lethal Stance gave a bonus to attack with unspecified type, thus stacking with everything, although its description stated that it should give competence bonus. Resolution: fixed.
Ghosts and Bloody Bones Beasts had a higher reflex bonus than intended. Resolution: fixed.
Prediction failed to work when aiming at characters' portraits. Resolution: fixed.
Items
Several druids complained that they couldn't find any ordinary quarterstaffs to buy. Resolution: a new consignment of quarterstaffs is going to be delivered to traders.
Amulet of Mighty Fists did not give any benefits to overcoming DR /magic and incorporeal immunities. Resolution: fixed.
When equipped by a monk, additional attacks granted by the Steelwind sai sometimes failed to stack stacking with additional attacks from Haste. Resolution: fixed.
Storyteller failed to take all your parts of the Ring of Reckless Courage when creating the artifact. Resolution: fixed.
The description of potions incorrectly stated that using them took the same action as using a spell. It should have stated that potions use a move action. Resolution: fixed.
Using spells provided by items caused the character to cast defensively provoked attacks of opportunity. Among such items, only scrolls should be cast defensively and cause the attack of opportunity on a failed defensive check. Resolution: fixed.
Metakinesis cost and effect are now correctly applied to kinetic blades.
User Interface
If a character leveled up during the battle, the corresponding notification was not displayed on characters. Resolution: fixed.
Fixed how the BAB and Saving Throw values, as well as the Spell Table, are displayed in the Class Progression window.
In the Unfair mode, the real skill check didn't always match the log entry. Resolution: fixed.
Immunity to effects was not displayed in the combat log. Resolution: fixed. Now, if the target is immune to an effect, a corresponding message is displayed in the combat log.
Effects and conditions were displayed on enemies right away but a successful Knowledge (Arcana) skill check caused this data block to hide. Resolution: fixed.
The performance of item-related (inventory, vendors, loot) UI elements has been improved.
If you closed the inventory when rotating the character's model, it was impossible to interact with the items after you re-opened the window. Resolution: fixed.
Miscellaneous
Fixed the incorrect description of the tiefling race in Russian.
Fixed the incorrect ending in the dialogue with Fes Aldragem.
The battle music failed to start. Resolution: fixed.
A friendly reminder: while we deeply admire the contribution that mod authors make to our game, we would like you to remember that running custom modifications can lead to unexpected bugs and crashes. Unfortunately, if you encounter any issues while playing with mods, our team will not be able to help you. If this happens, please report these issues to the mod's original creator. Also, remember that after each game update, there is a high probability of previously installed mods not functioning properly. If you wish to play with mods anyway, disabling auto-updates might prevent your save files from becoming corrupted.
常见游戏安装错误解决方法:
1、报错缺少DLL文件。安装系统常用运行库https://www.lanzoux.com/b0bwqvazg密码:dkw8
2、双击程序没反应。文件夹不要有中文例如D:\BaiduNetdiskDownload\生化危机重制版,后面中文路径改成英文
3、出现启动Steam程序。免DVD补丁未起作用,解压时关闭杀毒软件,防止误杀。
资源来自于网络,版权属于作者,仅供交流学习,如喜欢,请支持正版。