游戏介绍:
《Darksburg》是一款合作roguelite动作游戏,你必须与他人组队合作,然后对抗驻扎在淳朴小镇达克斯伯格城上受感染的人群。您将在游戏里担任一位英勇的幸存者,他们每一个人都拥有独特的技能和个性,使用在整个运行过程中遇到的数之不尽的技能和个性来提升他们的能力,并击败这些使这个以前和平的城市变得动荡不安的邪恶亡灵和丧尸军团。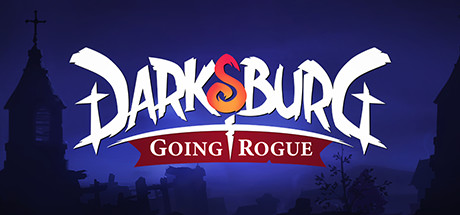 游戏特色:
熟悉掌握合作性游戏的艺术,在笼罩在达克斯伯格城恐怖下的无情感染者大军中生存下来。
每次升级时在3个随机技能中进行选择,并将它们组合起来,打造完美的建筑。
一个由程序生成的冒险。整个达克斯伯格城和它所包含的战利品会随着每一次的运行而改变,所以没有两场游戏比赛是相同的。
横跨整个城镇探索多个独特僵尸出没的地点,每次运行都会遇到不同的目标、敌人和物品。
最低配置:
需要 64 位处理器和操作系统
操作系统: Windows 7 64bit
处理器: Intel 2.0ghz Core 2 Duo or equivalent
内存: 2 GB RAM
显卡: GeForce GTX 690
DirectX 版本: 10
网络: 宽带互联网连接
存储空间: 需要 2 GB 可用空间
推荐配置:
需要 64 位处理器和操作系统
操作系统: Windows 10 64bit
处理器: Intel i5 3.1 Ghz Quad core
内存: 4 GB RAM
显卡: GeForce GTX 950
DirectX 版本: 10
网络: 宽带互联网连接
存储空间: 需要 2 GB 可用空间
游戏视频:
游戏截图: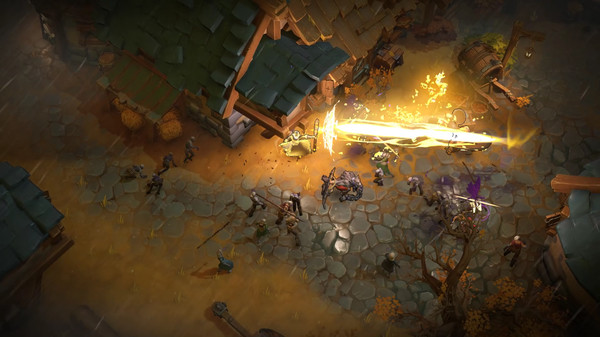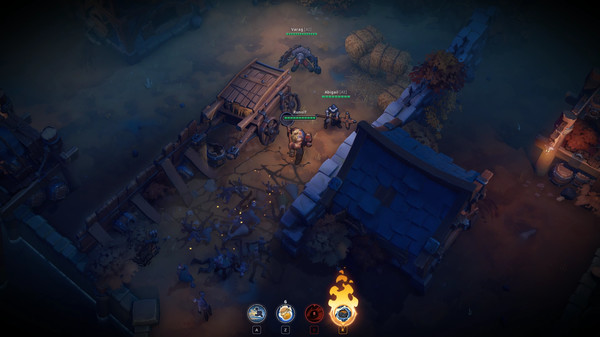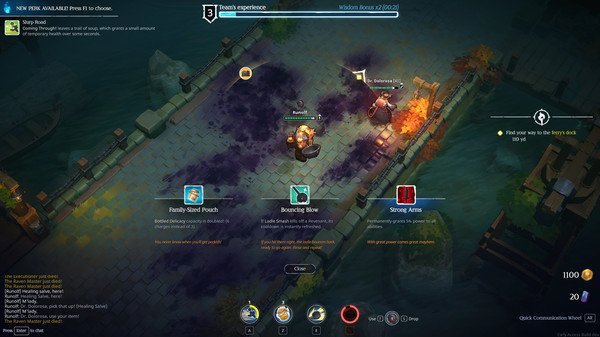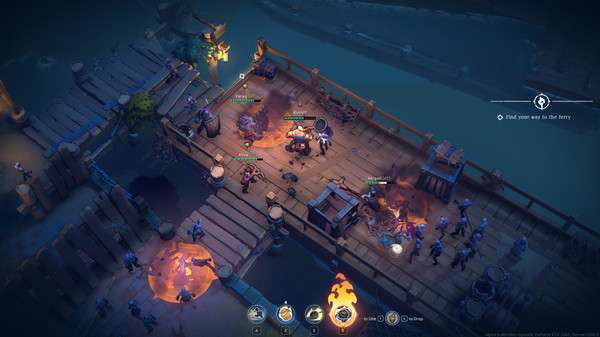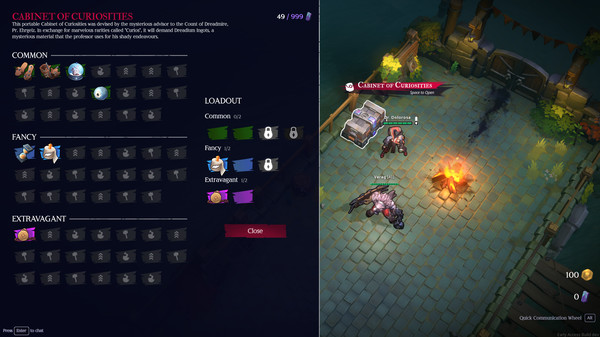 说明:winRAR解压,安装游戏记得全英文路径,关杀毒软件哦。
steam:https://store.steampowered.com/app/939100/Darksburg/
发行日期:2020年9月23日
重大更新 来自:Darksburg 已发布 11月10日周二 Darksburg V 1.0.5 Available Now! (With Controller Support)
Read on to find out more about everything that is included in 1.0.5:
NEW FEATURES / IMPROVEMENTS
• Controller support has been added, along with a host of options to customize your experience.
• Poison Throwers, as well as their effects have been recoloured to purple instead of green, to mitigate confusion issues with Dr. Dolorosa's effects.
• Added a Credits section on the main menu.
• AI-Controlled Survivors no longer equip a random host of Curios picked from the game's host's unlocked Curios, but instead use the loadout which was last used by the game's host for this Survivor. So it is now possible for you to create Survivor-specific loadouts for the AI.
• Flame-Throwing Braziers have been added to the game. Those braziers are static, indestructible traps that throw fireballs towards the closest Survivors. They are unique to the Graveyard district.
• The encounter with the Baron, Manfred Von Darksburg, has been massively revamped, as the fight was a bit dull and almost never was a run-killer. In order not to spoil the fun, we won't say anymore here, but be prepared for a tougher battle!
GENERAL BALANCING
• The Spores and Trapped Chests now poison the Survivors instead of dealing direct damage, and this effect can no longer be blocked by abilities such as Defensive Stance. They still deal 1 HP in direct damage to finish off poisoned Survivors.
• Poison Throwers' splash now also heavily slows down Survivors for 1 second.
• Added Barricades and Flame-Throwing Braziers to Graveyard and the Von Darksburgs' Family Crypt.
• The Poison Throwers' health has been reduced by 50%.
BUG FIXES
• Varag's Kinetic Dissipation now has proper VFXs.
• Destroying a door with a grenade or a barrel will no longer block quest instructions to your screen.
• Achievement "Ooooh, Look At Mr. Responsible Over Here" (Revive 100 times your allies) now works as intended.
• Fixed several controllers/movement issues.
SURVIVORS' BALANCING
Sister Abigail
• We are well aware that everybody's favourite nun is currently on the underpowered side of the roster. The main complaint is about her lack of sustain, so we increased by 150% her temporary health gains from hitting enemies while Fervour is maxed out. The gain is now much more perceptible and should allow Abigail to survive more easily on her own, making the 'Smit'em all' perk the team-supporting perk she was always intended to be rather than a must-pick for Abi to survive.
• Abigail also lacked burst damage and efficient ways to dispatch tougher enemies. This had the sad consequence to make her weaker and weaker in higher Ascension level, so to make up for this weakness, the native damage dealt at The Bell's landing point has been increased by 400% and the bonus from the 'Far-reaching Elegy' perk has been consequently lowered from 400% to 200% (side note: the description wrongly stated 500%, it's been fixed and now states the correct new 200% bonus).
• Fervour now builds up faster if she fights stronger enemies – namely Revenants and the Baron, but in exchange, Fervour at large takes slightly longer to max out.
• The damage bonus from the 'True Faith' perk has been increased from 20% and 25% and is still stackable.
• The move speed bonus from the 'Zealous Haste' perk has been decreased from 50% to 30%.
• Abigail's carrying animation has been fixed.
Dr. Dolorosa
• The 'Rock'n Roll' perk's description incorrectly stated that the Dodge Roll ability would grant a 20% move speed bonus for 2s, while in reality the bonus was 30% for 3s. The misleading text has been updated.
• The 'Rock'n Roll' and 'Kinetic Compression' perks' effects kick in slightly sooner during the roll, mostly to improve the feeling of 'Rock'n Roll'.
Runolf
• 'Bottled Delicacy' now only has one native charge instead of two, but its cooldown has been decreased from 16s to 10s.
• The 'Family-Sized Pouch' perk now only grants one extra charge of 'Bottled Delicacy', but can be stacked several times.
Varag
• Defensive Stance's charge is no longer completely drained after a Shield Bash has been performed. A stage 1 Shield Bash replenishes it partially and a stage 2 Shield Bash replenishes it fully.
• Defensive Stance protects Varag and triggers Shield Bash within an angle of 210° (instead of 180°).
• Shieldarang now natively attracts zombies around it, like the Black Hole perk does, although the effect is lesser.
• Dire Bite's cooldown has been reduced from 9s to 5s.
• Playing Varag with 'Kinetic Dissipation' now always shows the area of effect when cumulated with 'Ground Wave' perk.
CURIOS
After many testing sessions and feedback from players, we decided to make some changes to some Curios. These changes range to minor to complete revamp and some Curios have been moved from one category to another. No progress (= already unlocked Curios) has been lost, and those of you who had paid for now-degraded Curios will be refunded (don't worry though; if your Dreadium Ingots were already maxed out, it'll just go higher that 999 until you spend enough to fall under again). Curios bought at a cheaper price and which were ranked up in the meantime will be kept, no extra charge 🙂
We are also aware that those changes may disrupt existing builds and we hope you will take pleasure in trying to find even better ones. We deeply feel that those changes are for the better, but we understand that no change comes without a cost.
• The Fireproof Jacket & the Extra Thick-Bottomed Cauldron from Connie's Cook'in Cauldrons were moved from the Common to the Fancy category as they were a tad too powerful for the Common category.
• The Heart-Shaped Pendant, the Heart-Shaped Brooch and the Heart-Shaped Stamp Ring have all been moved from the Fancy down to the Common category in order to leave more room for Fancy builds while also being more newbie-friendly.
• The First Mint Manfred Coin now gives the wearer of the Curio a 5% probability that a small stack of Darks drops when killing an enemy, which feels better and gives better feedback.
• The Compression Stockings now reduce the duration of poison by 80% in addition to their current effect.
• The Novelty Chew Toy still grants damage immunity during bleedout, but will now also prevent the loss of a chunk of health when revived. This consumes the Curio which can then be restored at the Cabinet of Curiosities.
• The Darksburg Snowglobe's effect is now permanent and it slows down enemies around the Survivor as well as soothing them slowly. As a consequence of its massive upgrade, it has been moved from the Common to the Extravagant category.
• The Old Man Pennywise's Purse has been completely revamped and no longer saves Darks for the next run. Instead, it instantly saves all picked up Dreadium Ingots upon defeat, becoming a farming Curio. It is moved from the Common to the Fancy category.
• Needy Nelly's Noodle Necklace has been moved from the Fancy to the Common category, as it is more of a personal insurance.
• The "Feather Touch" Extra Soft TP's activation has been changed a bit; it can now be used manually by interacting with an Outhouse, and will instantly restore all lost chunks of health, although it provides no healing. This change should make it more appealing for a Fancy Curio that needs to stay equipped during districts.
• The White Armband was a bit lackluster for a Fancy Curio and was bit redundant with Ygdar Orus Li Ox, so it now functions differently: it now grants the same capacity as Varag's Tough Guy perk, allowing the wearer to be revived endlessly unless they die first. As a consequence of this massive boost, it's been bumped up to the Extravagant category!
• The Antiseptic Lotion now bestows a 50% defense bonus during 30 seconds after applying a Bandage and 60s after using a Healing Salve or a Doctor's Satchel. It has been moved down from the Extravagant to the Fancy category.
• The Street Nurse's Manual now grants all Survivors 50% of their max health in temp health when the carrier of this Curio uses a Bandage or First Aid Kit, and 100% if they're using a Healing Salve or Doctor's Satchel.
• The Rod of Asclepius Lucky Charm's probability of not consuming healing items has been raised from 25% to 75% which is more worthy of an Extravagant Curio.
• The Bickering Becky's Bakery Baker's Hat has been moved down from Extravagant to Fancy.
• The Monocle of Minute Methodologies has been moved down from Extravagant to Fancy.
• Herman Zahllos's Abacus has been replaced by Rose's Old Abacus. Only Rose can equip this Curio, and it grants her a small quantity of temporary HP and Barrage charge for each Darks she receives. Additionally, Headcount is increased every time she picks up a stack of gold in person. Such increases can exceed Headcount's limit by 100%, potentially doubling all Headcount bonuses! As it has become a Curio unique to a Survivor, it has been moved up to the Extravagant category!
• The Symbol of the Light becomes Sister Abigail's Symbol of the Light and can now only be equipped by Sister Abigail. In addition to its current effect (explosion of light when being incapacitated), the Symbol now grants Abigail a powerful aura of holy fire that activates while Fervour is maxed out.
• Runolf's Boarlets Badge of Friendship is now only usable by Runolf. In addition to allowing Runolf to revive his fallen allies at a distance, it grants all Survivors a lesser form of Mushroomania, allowing them to pick Mushrooms that give them short boosts of attack power and speed as well as temp health.
• Dr. Dolorosa's Four Thieves Vinegar (updated formula) is now only usable by Dr. Dolorosa. In addition to its current repellent effect while Dr. Dolorosa's incapacitated, it also grants her a poisonous aura that grows with each Infection Sample and decays if she fails to keep them rolling in.
• Varag's Baby Fang is now unique to Varag and its behaviour has changed: each foe killed by Dire Bite grants Varag a 5% attack power bonus for 3 seconds, stackable up to +100%.
Curios type changes
The category changes above naturally shifted the balance between the types (Survival, Performance, Utility) within each category. Although those imbalances are minor, we decided to alter the type of some Curios in order to keep things entertaining and fair when unlocking Curios, as well as fix some consistency or logic issues. Although it shouldn't change anything for already unlocked Curios, we also apologize for the inconvenience.
Common Curios:
• Granny Gretchen's Pendulum: Survival > Utility. (this one was clearly a mistake)
Fancy Curios:
• Ygdar Orus Li Ox: Utility > Survival.
• Extra Thick-Bottomed Cauldron from Connie's Cook'in Cauldrons: Performance > Survival. (to be consistent with the Fireproof Jacket)
• Monocle of Minute Methodologies: Uility > Performance.

Extravagant Curios:
• Sister Abigail's Symbol of the Light: Survival > Utility.
• Antique Coffee Maker: Performance > Survival. (didn't make much sense as a Performance)
• Darksburg Snowglobe: Survival > Utility. (to account for its new functions)
• White Armband: Performance > Survival.
QOL OR UI/UX
• The maximum number of Chickens that can be stored at a time is now 99 instead of 100 as 100 was a bit misleading.
• Poison Throwing Zombies have been recolored to purple to avoid any confusion with Dr. Dolorosa's kit.
Additionally, Dreadium's economy has been slightly modified and Curios Slots' prices have been changed.
TEXT & LOCALIZATION
All languages
• Added a large number of new strings and missing translations.
• Some minor fixes.
常见游戏安装错误解决方法:
1、报错缺少DLL文件。安装系统常用运行库https://www.lanzoux.com/b0bwqvazg密码:dkw8
2、双击程序没反应。文件夹不要有中文例如D:\BaiduNetdiskDownload\生化危机重制版,后面中文路径改成英文
3、出现启动Steam程序。免DVD补丁未起作用,解压时关闭杀毒软件,防止误杀。
资源来自于网络,版权属于作者,仅供交流学习,如喜欢,请支持正版。